indian food, again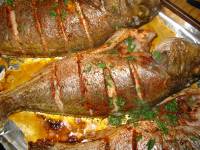 baked yellow croaker

well obviously, i'm not over my indian food phase. and why should i be? it's so delicious. i've tried 2 veggies now, and 3 main courses, all fish. i never realized that fish was such a big part of indian cuisine.
last night i baked some yellow croaker,
recipe
courtesy of mongo jones. wonderfully tangy and spicy. the fish itself was a little over-cooked (my fault), and was a little old (mr. dexygus's fault. i'm not sure the poor man knows how to pick fish. well, i'm not a pro either, but i know to avoid the cloudy eyes. at least it didn't smell fishy.) but even with all that against us, the fish was still yummy.
i served it with
bengali-style green beans
from
madhur jaffrey's world vegetarian.
this dish is definitely a keeper. aromatic and savory. addictive.
bengali-style green beans

~~~~~~~~~~~~~~~~~~~~~~~~~~~~~~~~~~~~~~~~~~
Bengali-Style Green Beans
2 Tbsp. whole brown or yellow mustard seeds
3 Tbsp. olive oil
1 medium onion, quartered lengthwise and thinly sliced
3/4 lb. green beans, cut into 1-inch long pieces
1 1/4 tsp. salt
1/2 cup chopped fresh cilantro
1 fresh hot green chile, cut into long slivers (do not remove the seeds)
Grind mustard seeds to a fine powder. Empty into a small bowl. Add 3/4 cup water and soak for 20 to 30 minutes. don't stir.
Put oil in a frying pan on med-hi heat. Add the onion and saute on medium heat until soft and begins to color. Add the beans, salt, cilantro and chile. Stir for a minute. Carefully pour the watery mustard water over the green beans, making sure to leave the thick paste behind (this is a little tricky. some mustard will inevitably make its way into the pan.) Mix well. Bring beans to a boil. Reduce heat to low and cover. simmer gently for 20 minutes or so, until the beans are cooked and most of the liquid is gone.
~~~~~~~~~~~~~~~~~~~~~~~~~~~~~~~~~~~~~~~~~~~~
i served the fish and green beans over steamed brown and white rice. i have not provided a picture of the plated meal because i really didn't want visual evidence that we each ate a 1.5 pound fish. anyways, leftovers tonight.